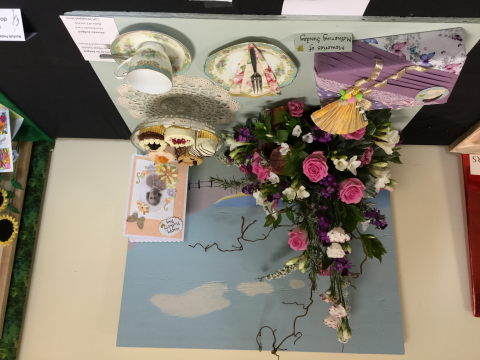 We provide activities involving visual and creative arts to all members within the Federation.
We also promote all aspects of the arts for your enjoyment, in the form of demonstrations, exhibitions, competitions, and organising trips to exhibitions and Museums.
The Creative Activities Sub-Committee are delighted to invite you to a CRAFT DAY AT BACTON VILLAGE HALL
Saturday 23rd October 2021
10am – 3.30pm
Doors open 9.30am for tea / coffee
£20 Includes all materials
Please bring a packed lunch, (tea & coffee available all day)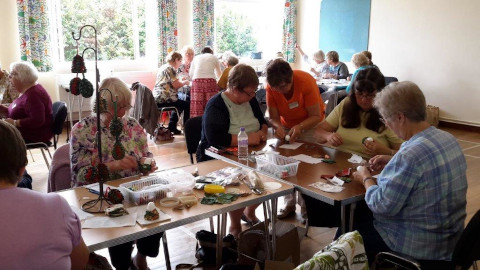 Crochet a Little Flower Brooch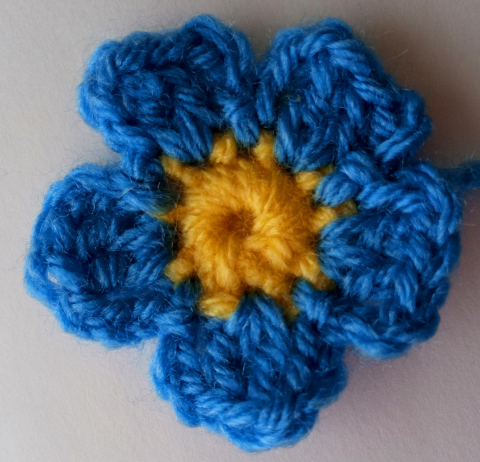 Crochet a little flower brooch. I used yellow for the centre and blue for petals to make a Forget me not – based on the badge of the Alzheimers Society: says Lesley Sanders, Trustee
Material
You will need small amounts of wool in two colours and a crochet hook number 3.5 or similar depending on the thickness of your wool.
This pattern uses the UK naming system. See the diagram below, for details of how to work each stitch.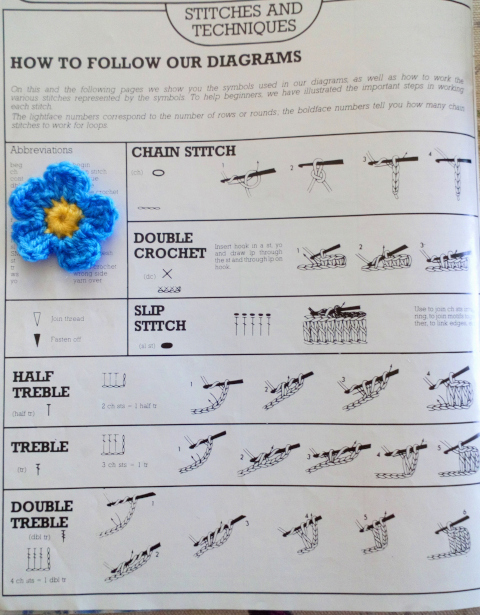 Start with colour for centre of flower

Make a loop and work 3 chains (see chain stitch on diagram)

Join into a ring with a slip stitch.

First round: 2ch (for first DC) then work 9 double crochets (DC) into ring. Join to first chain with a slip stitch- check that you have an even number of stitches as a petal is worked over 2 DC.

Fasten off by pulling wool through the last loop and cutting off leaving a short end to neaten off with a needle.

Change to petal colour.

Join into the top of any DC with a slip stitch.

*Make a 3 chain, work 2 TC (treble crochet) into next DC, 3 chain, join to next DC with a slip stitch*. repeat from * to *5 more times.

This picture shows 1 petal made and 3 chain ready to start petal number 2.

When you have worked all round, Join with a slip stitch in same place as first chain.

You should have 5 petals as in the first picture.

Sew in all the ends and stitch a safety pin to the back to finish off your brooch.
Hint: When you have made your ring, if you hold the tail end behind your work and make your next stitches over it, this will save having to neaten off at the end. You can then pull this thread to make the central hole smaller. This also works when you change colour to hide the ends. Just trim off any short ends.
Have fun and adapt this pattern to make different flowers
Make 11 DC into your ring to make 6 petals. If you want even more petals try working treble crochets instead of double into the ring – can make a larger flower with up to 8 or 9 petals this way.
Change the shape of the petals by making a picot between the 2 trebles of each petal as in pink flower below. (picot = 3chain and slip stitch into first chain )
Make the petals longer by working 4 chain and a double treble or even a treble treble. Instead of 3ch and a treble
Use glittery thread or stitch beads in the centre for a more glamorous look.
Download Previous Projects From Here
Betty's Little Felt Needle Case Download
Knitted Leaves Craft Project, In Ten Easy Steps January 2021 Download it here
When We are Out an About
There are opportunities to attend all-day workshops at the Federation Office, or around the County.
These have been as diverse as ribbon embroidery, stained glass and cookery demonstrations.
ALSO
There is an annual Craft Day at Bacton, with a variety of courses to choose from, with skilled tutors on hand to assist.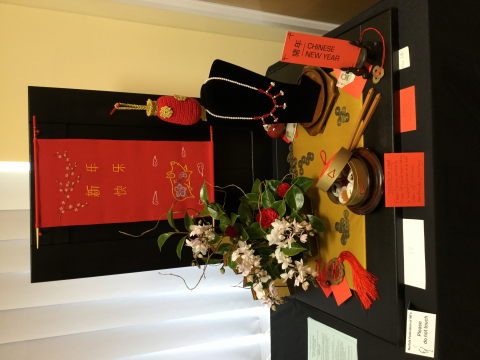 "The Centenary Salver", a co-operative competition, is held annually and all WIs within the Federation can take part. The theme of the competition is decided by the Sub-Committee and various crafts are undertaken to interpret the theme.
The year culminates in a large sale known as "Unwanted/Unfinished", held in Evelyn Suffield House.
We can also arrange for our Pop-up Shop, of donated craft items (such as embroidery silks and knitting wool), to be available for WI meetings.
Some courses are available to certificate level should you wish to take your interest further; for instance, we also organise Food Hygiene Certificates.
The Sub-Committee aims to reflect the requirements of members and therefore suggestions for future activities are always welcomed.

Centenary Salver 2019
This annual event attracts many entries from our members. It is a co-operative competition, where WIs produce a display that must include 5 different crafts.
In the Centenary Year the exhibition was displayed at Bawdeswell Village Hall on 6th and 7th April.
Entry is free, refreshments will be available.
Click HERE to see and download "On with Show" online. (You will need to be able to log on to My WI.
We ensure that we have information available at the Royal Norfolk Show, the Federation Annual meeting and the Autumn Federation meetings and are willing to discuss new ideas.
"EASTER CHEAP CHEEP" (2021)

Joint Creative Activities & Digital Activities Sub Committees

Finding creative seasonal ideas from odds and ends around the house
Click or tap the picture you want to know more about

Seasonal table Arrangements with Jay Page

Knitted Chick
with Jane France


Ideas for Blown Eggs
with Mary Dorrell

Easter Card
with Margaret Collingwood


Bunny Card with Jane France

Using whatever is to hand around the house!
Follow the links below to find out what happened when BBC Radio Norfolk joined our Norfolk centennial Centenary Salver Show.
Anthony Isaacs has been trying his hand at rag-rugging with the @NorfolkWI at their centenary salver.
How do you think he's doing? pic.twitter.com/hWn2fmZGCS

— BBC Radio Norfolk (@BBCNorfolk) April 7, 2019
OR
Listen to an excerpt as Anthony Isaacs of BBC Radio Norfolk chats with Sheelagh Foulke and Sue Ovenden. They looked at the entries with him and discussed why the WI is as valid today, as when they joined.