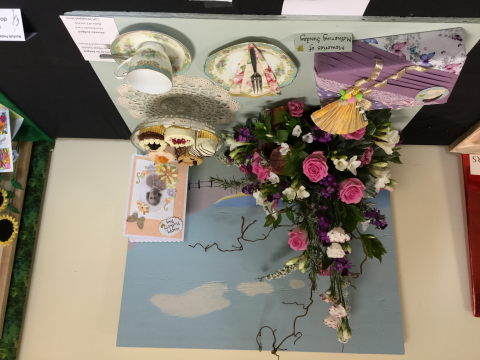 We provide activities involving visual and creative arts to all members within the Federation.
We also promote all aspects of the arts for your enjoyment, in the form of demonstrations, exhibitions, competitions, and organising trips to exhibitions and Museums.
A Project to Try at Home
Knitted Leaves Craft Project, In Ten Easy Steps
Brought to you by Jay Page, Chairman of the Creative Activities Sub-Committee
Materials
Bin Bags ... You don't need quality bags
Big Knitting Needles
Baking Paper
Iron and Ironing Board
Scissors
Optional:
Stub Wire and Pliers
Method
Cut down sides and open out so you have a long rectangle
Cut about one to one and half inch wide margin and spiral cut round the bag sometimes trimming off any sticking out corners and roll into a ball like wool, so you end up with a ball of bag
Get knitting needles ... big ... about size of thumb
Cast on approx. 20 stitches and knit plain until you finish the ball of plastic bag. It will look bubbly! The fatter the knitting needles the more open the mesh
Take baking paper, lay a piece on ironing board
Put your knitting on top covered with another piece of baking paper
With iron on hot gently press knitting several times till very flat
Leave a minute to cool, peel paper off to reveal your flat sheet of knitting
It's then ready to cut into any shape you want. If you want another colour, spray paint it
I thread a stub wire through centre of leaf weaving in and out of mesh. At the top of leaf I turn the end tip over and with pliers squeeze to secure it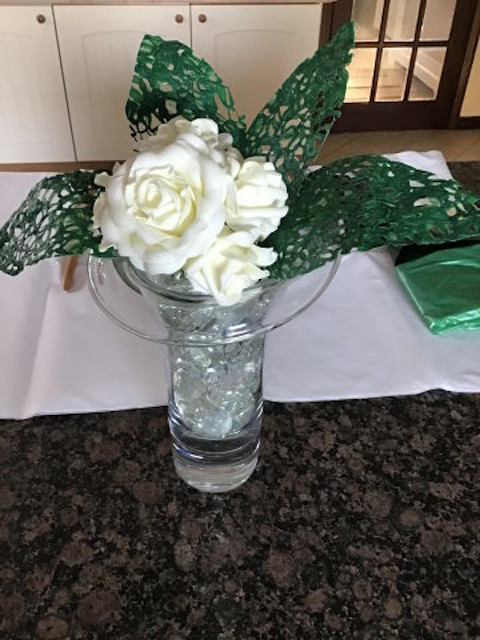 This is what you can achieve at the end!
When We are Out an About
There are opportunities to attend all-day workshops at the Federation Office, or around the County. These have been as diverse as ribbon embroidery, stained glass and cookery demonstrations.
There is also an annual Craft Day at Bacton, with a variety of courses to choose from, with skilled tutors on hand to assist.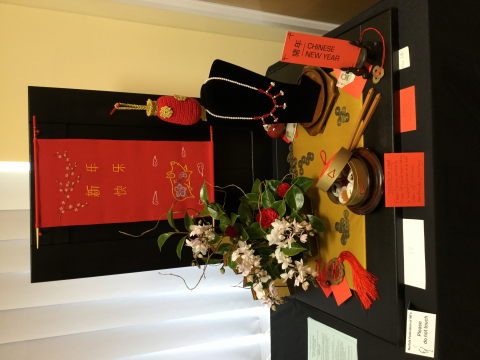 "The Centenary Salver", a co-operative competition, is held annually and all WIs within the Federation can take part. The theme of the competition is decided by the Sub-Committee and various crafts are undertaken to interpret the theme.
The year culminates in a large sale known as "Unwanted/Unfinished", held in Evelyn Suffield House.
We can also arrange for our Pop-up Shop, of donated craft items (such as embroidery silks and knitting wool), to be available for WI meetings.
Some courses are available to certificate level should you wish to take your interest further; for instance, we also organise Food Hygiene Certificates.
The Sub-Committee aims to reflect the requirements of members and therefore suggestions for future activities are always welcomed.

Centenary Salver 2019
This annual event attracts many entries from our members. It is a co-operative competition, where WIs produce a display that must include 5 different crafts.
In the Centenary Year the exhibition was displayed at Bawdeswell Village Hall on 6th and 7th April.
Entry is free, refreshments will be available.
Click HERE to see and download "On with Show" online. (You will need to be able to log on to My WI.
We ensure that we have information available at the Royal Norfolk Show, the Federation Annual meeting and the Autumn Federation meetings and are willing to discuss new ideas.
Follow the links below to find out what happened when BBC Radio Norfolk joined our Norfolk centennial Centenary Salver Show.
Anthony Isaacs has been trying his hand at rag-rugging with the @NorfolkWI at their centenary salver.
How do you think he's doing? pic.twitter.com/hWn2fmZGCS

— BBC Radio Norfolk (@BBCNorfolk) April 7, 2019
OR
Listen to an excerpt as Anthony Isaacs of BBC Radio Norfolk chats with Sheelagh Foulke and Sue Ovenden. They looked at the entries with him and discussed why the WI is as valid today, as when they joined.