White Ribbon Campaign
Norfolk WI Says No To Domestic Abuse & Sexual Violence
See also #OrangeTheWorld on our International Page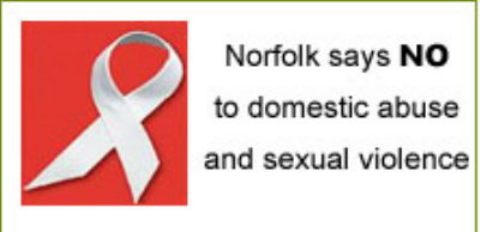 Three million women across the UK experience rape, domestic violence, forced marriage, sexual exploitation and other forms of violence and abuse each year.
The WI have been campaigning on violence against women since 2008; raising awareness of the nature, extent and impact of all forms of violence against women.

The Norfolk Federation of WIs were delighted when they were approached by Norwich City Council to help with the County-wide #IWalkedAway campaign, culminating on International Day Against Violence – White Ribbon Day. November 2016

From May the 165 WIs in Norfolk, together with other community groups, designedpositive messages of support for the campaign and each message decorated 1 foot long lengths of white ribbon. The challenge was then how to display the ribbons.

Friday, 25th November a 10-foot tall, 3-D White Ribbon Totem was be unveiled at The Forum in Norwich. Designed by Carol Makin, then Chairman of the Federation Arts & Craft Committee, and her husband Malcolm, and sewn by WI members and over 20 other community groups, the Totem was be available to view all day, culminating in a candlelit vigil outside the Forum at 5.30 p.m.

The Big White Ribbon
being prepared for Friday November 25th 2016
at The Forum, Norwich

The WI was delighted to have made The Big White Ribbon for Norfolk. as part of our long-running campaign: "No More Violence Against Women."

This project promoted conversations about saying #NoToDomesticAbuse so that men and women could provide support for those who want to walk away from abusive relationships.

After the Big White Ribbon was displayed at the Forum it was taken on a tour of Norfolk, starting in King's Lynn at Freebridge Housing's Offices.
On International Women's Day March 8th 2021
Margaret Collingwood, Chairman of the Norfolk Federation of WIs is challenging empowerment
"There are five recognised categories of women's empowerment: social, educational, economic, political, and psychological.
All five of these categories intertwine with one another, but education is surely the most essential.With education young women can achieve their full potential, inside and outside of the home. Knowledge provides the tools needed to deal with social and economic inequalities"
I #ChooseToChallenge Empowerment
Hazel Jones, Norfolk WI Trustee is standing up against discrimination and says"All my life I've witnessed discrimination of one form or another, whether race, colour, religion or sexual orientation. I just wish we could learn the meaning of tolerance. Our differences should be celebrated not spurned."
I #ChooseToChallenge Discrimination