#NorfolkWIonehundred
#100WIwayswithcake
#NorfolkDay
Whether you were sharing cake in one of our featured WIs, making a Bug Hotel in our SoS Honey Bee garden, or joining the audience of BBC Radio Norfolk 'Garden Party' at our own Evelyn Suffield House, there was a lot happening this centenary year around Norfolk WIs on July 27th
What

happened in WIs around Norfolk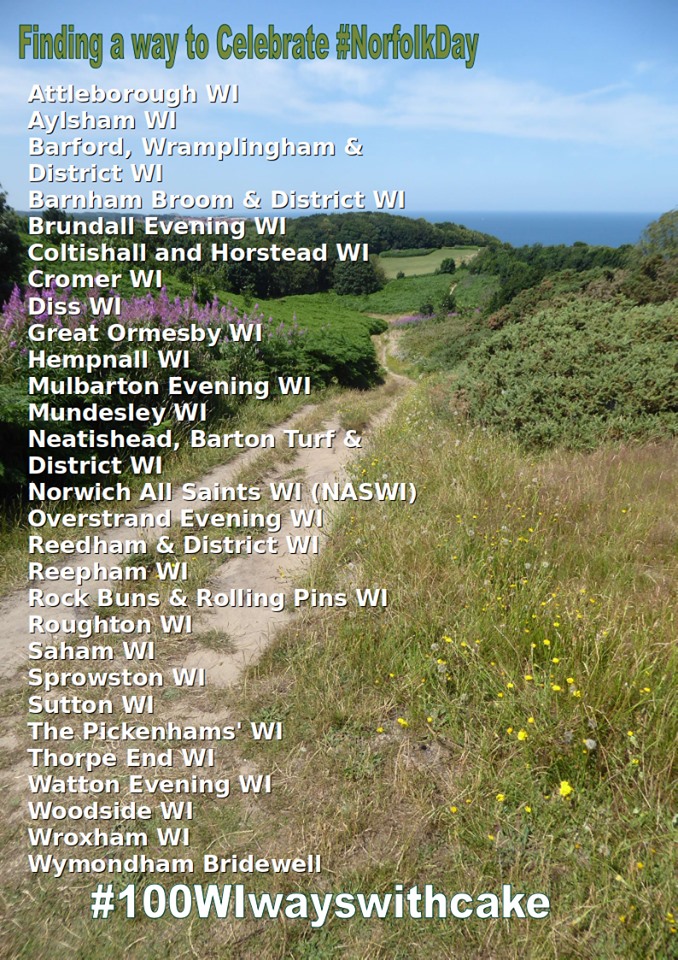 WI

PLANS

Watton Evening WI

Norfolk Day, the WI Way: We are serving sweet and savoury refreshments from10.00am until 3.00pm.

10.30 Neighbourhood Plans......speaker
11.00 Norfolk recycling.....speaker.
11.30 Scams....speaker
12.00 The Daisy project....speaker
12.30 Lunch.

In the afternoon format will be repeated and Anglian Water may be able to give a talk on 'Keep it Clean'. Looking forward to sharing it with people from the town and surrounding area.

Mundesley WI

We will bake and hand out to the public, 100 lavender cupcakes. Each bearing a little flag to inform recipients that Norfolk WI federation is celebrating its 100th birthday. The flags will be made and handwritten by members. There will, of course, be gluten-free and vegan versions included.

Aylsham WI

We are making 100 small buns and icing with WI colours to give away in Aylsham on Norfolk Day.

Barford, Wramplingham & District WI

Coffee morning, with birthday cake. Working together with Barford Church members, making it a joint community event, raising money for Village Hall and Barford Church.

Click here to see the history of our WI and the three village halls we have fundraised for in this community.

Mulbarton Evening WI

Cuppa And Cake event the morning of Norfolk Day. To be held in the Village at Harvest House, which is near the Church and faces the Common. All the village will be invited plus any visitors, such as walkers. It will just be 10-12. Lovely Norfolk Vinegar Cake, Norfolk Shorties, grandmas favourite recipes and some new ones such as sticky toffee cake. 100 slices or individual cakes. Balloons for the children. Harvest House has a nice garden with some play equipment, so it will be a lovely venue.

Norwich All Saints WI (NASWI)

we are proud of our community links and have therefore decided to continue our Norfolk Day association with the Norwich Citadel Salvation Army Soup Run. This year we will be there again, but with even more cake to celebrate our own 10th birthday and the Norfolk Federation's Centenary year as well. Members will join the Soup Run team to hand out cake, chat and support local people in need. It was a really worthwhile experience last year. Our cake was received with huge pleasure and gratitude and we are pleased that Major Barry Wilson has given us the go-ahead to do the same again.

Neatishead, Barton Turf & District

we are sharing Norfolk Day with our local residential care home, Broadacres, as the staff and residents regularly get involved in community events. Nobody turns down home-made cake and we have some wonderful bakers amongst our Members, so we will be delivering 100 individual cakes to Broadacres to add to their enjoyment of the day.

Hempnall WI

are opening two gardens and inviting people for tea, coffee and Norfolk Cakes for a donation per person. We will be fundraising once again to support Norfolk Admiral Nurses, who provide wonderful support for people who have Dementia, and their Carers. There will be special Norfolk recipes for cakes. If you didn't get to try 'Yarmouth Straws' last year, make sure you sample them this year! They were very popular. No need to book, just turn up.

10 am – 12 midday Willow House, Bungay Road, NR15 2NG
2 pm – 4 pm Stone Cottage, Fairstead Lane, NR15 2NF

Sutton WI

we will be holding a drop-in Day at Sutton Village Hall open to both locals and holidaymakers where we will be giving away 100 cakes along with tea and coffee. There will be a small number of stalls and displays promoting what we do at National/Federation and Sutton WI We are also having a competition for children to design posters around the theme of the decline in public transport.

Attleborough WI

will be doing the same as last year, a Coffee morning in the Town Hall, although this year we will be wearing our yellow sashes as before, we will also be wearing straw hats with yellow ribbons and yellow flowers, we may even wear yellow T-shirts. We will aim for 100 plus slices of cake and small cakes which will be free with coffee or tea.

There will be a raffle sponsored by businesses of Attleborough, a photo quiz of buildings/scenery of Attleborough. The planning is still ongoing but we intend to have some fun!

Coltishall and Horstead WI

are celebrating both Norfolk Day and 100 years of the WI by sharing a hundred pieces of cake with the community from 2.30pm on the river green at Coltishall. All welcome - we would love to see you!

Reepham WI

will be holding a Community Fun Day at the Bircham Centre and Garden with games and refreshments.

Rock Buns & Rolling Pins WI

will be baking rock buns and giving out trays of them to shops, services and groups in North Walsham to be handed out to their customers on Norfolk Day. We chose to bake rock buns to match our WI name!

Great Ormesby WI

have decided to share our Norfolk Day Cake with the village and will be putting up posters and giving invitations, inviting people to join us for a slice of cake and a cuppa. The event will be held at the Village Centre, Station Road, Ormesby, between 10 and 12 on Norfolk Day.

Overstrand Evening WI

will be making celebration rock buns to give out on the day during the "Rockstock Concert" in Overstrand

Thorpe End WI

are having a coffee morning at a member's home where there will, of course, be plenty of cake!. We are going to ask our members to bring a knitted or crocheted square - hoping that we get 100- we will then follow this up with a workshop where members can sew the squares together to make a large blanket [or a number of small blankets] for charity.

Saham WI

are baking 100 individual cakes which will be given half each to Lancaster House and Linden Court in Watton, two homes for the elderly.

Cromer WI

are hoping to have an afternoon tea party at one of our member's beach hut. We aim to give out cake to passing public. We are also asking members to bring their own thermos flasks so we can help the environment by not buying takeout coffees, We are praying for good weather so we can give away 100 pieces of cake!

Roughton WI

will celebrate both Norfolk Day and Norfolk Federation Centenary with a Cream Tea: Saturday 27th July, to be held in a member's garden. WI members, family and friends are warmly invited (bring a chair!) to enjoy Norfolk at its finest, plus yummy food and friendship!

Brundall Evening WI

will be holding a Coffee morning to celebrate Norfolk Day July 27th from 10:00am till midday at Brundall Memorial Hall Links Avenue

Diss WI

will be providing refreshments, having a cake stall and tombola at Causeway Bowls Club Community Day in aid of EACH. Chapel Street 10-4pm. There will also be arts and craft fair, plants and have a go at target bowls.

Woodside WI

will be giving away 100 pieces of cake at the Farmers market in the St Andrews Centre, Thunder Lane, Thorpe St Andrew on Friday 26th July

The Pickenhams' WI

will have a Bring and Buy stall at the annual Duck Race on the last Saturday in July, which is, of course, Norfolk Day! The Duck Race is a very popular local event and the WI members are looking forward to being part of it

Sprowston WI

plan for members to bring between them a hundred cakes to their July meeting. We plan to have a whole group photograph with members holding the Centenary Bunting and some members holding teapots, jugs and cups and saucers to create a tea party theme photo.

Reedham & District WI

organising some celebratory ringing at St Mary the Virgin, Saxlingham Nethergate

Bellringing Celebration of 100 years of the WI in Norfolk, Saturday, 27th July 11.00am

Invitation to all Norfolk WI members: "You don't have to be a bellringer to be involved! Turn up on the morning to listen, support the ringers, celebrate the Federation's 100th birthday and publicise bellringing!

Wroxham WI

will be celebrating Norfolk Day on Granary Staithe, Hoveton, between 10.30am - 3.00pm. We have a slight twist to our theme in so much as instead of offering cakes we will be giving out 100 decorated bamboo spoons. All members have been asked to decorate 2 spoons, with any design they like, and in addition to this we are holding a couple of workshops beforehand. Each spoon will be unique and have a label attached to it saying it is from Wroxham WI.

Wymondham Bridewell WI

are giving out various cakes in the Town, along with some Morsbags!

Barnham Broom & District WI

will be serving cake and a cuppa at Barnham Broom Village Hall on Norfolk Day between 2pm ad 4pm with entertainment by The Windmill Handbell Ringers at 3pm

Let your WI creativity loose on the theme of Centenary+Birthday+Cake!
#100WIwayswithcake ??
It might be that you celebrate with one hundred tiny birthday buns distributed to the public, or with one large celebration cake cut into a hundred slices. Using a traditional Norfolk recipe or relying on your favourite WI recipe or Great Grannies' best. You might have a special tea party in a special place with your WI or walk your local footpath armed with celebration cake, for visitors to Norfolk. Full details have been sent to all WI Secretaries.
Did you hear Norfolk WI at the launch of Norfolk Day 2019?
We were with Norfolk Chamber of Commerce on Radio Norfolk, on Friday 15th February 2019 and then at ES House with the EDP You can hear the radio recording on our Youtube Channel.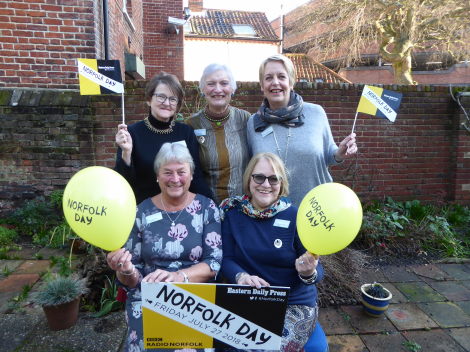 The WI has been deep at the heart of the community of Norfolk for 100 years. In our centenary year, our 5000 members in over 155 WIs right across this wonderful County, we pleased and proud to once again be involved in making the #NorfolkDay initiative a success.
Coming soon: plans for a special garden-themed day at Evelyn Suffield House, with BBC Radio Norfolk Garden Party in attendance.