About Us
Founded in 1923, Snettisham WI is a friendly group based in one of the most picturesque villages of West Norfolk, just two miles from the coast. We are entertained by a wide range of speakers and have regular social events such as lunches, theatre trips and outings.
In 2015 we were proud to take part in the centenary celebrations of the national Women's Institute, and some of our members helped to start the celebrations by accompanying the centenary baton on its journey through Norfolk by bus. We held our own afternoon tea party complete with centenary cake, and planted a commemorative tree in the village.
2019 has a full programme of speakers, and there are regular get-togethers organised by the Book Club and the Bowling Belles, as well as our new "Ladies who Lunch" group. Something for everyone!
All ladies are welcome to join us - all ages, and you don't have to live in Snettisham. Do get in touch for more details.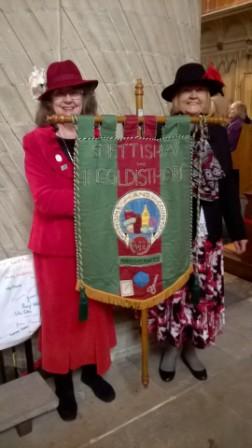 The Snettisham banner at the Centenary Service in Norwich Cathedral