On Norfolk Day 2018
A Slice of Norfolk WI Life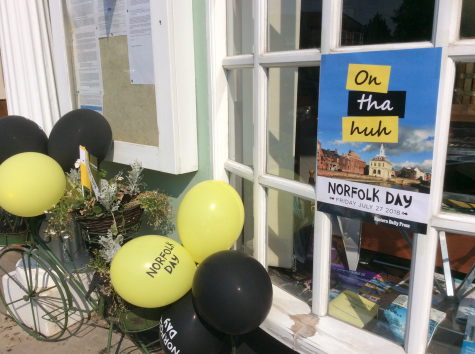 A Slice of Norfolk WI Life
Open to the public to drop in for free tea and cake!
Norfolk Federation of WIs are pleased and proud to be celebrating the county's first ever Norfolk Day on July 27th 2018
The WI has been woven into the warp and weft of Norfolk lives for nearly a 100 years. With our Centenary coming up in 2019 and with over 5000 members in over 155 WIs right across this wonderful County, we were excited to be involved in making the #NorfolkDay initiative a success. Here are the four WI members who spent from 5:45am(!) to 10am with BBC Radio Norfolk on The Vintage Broadsman for the morning breakfast show with Nick Conrad'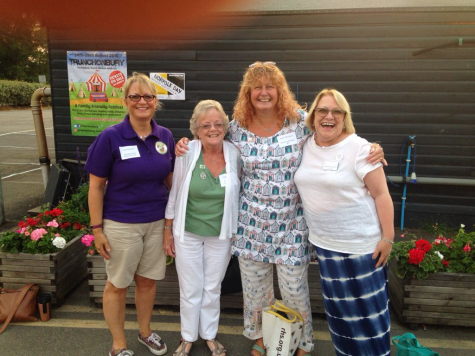 They are: Julie Cameron (Rock Buns & Rolling Pins WI), Rosemary Pye (Coltishall & Horstead WI), Karen McDowell (All Saints WI) and Margaret Collingwood (Wroxham WI and Federation Chairman)
Come and see our lovely Georgian House and town garden, owned by the members. There will be information available about:
how to join us,
all our crafting, cooking and campaigning
plenty of fun and friendship
glimpses of Norfolk WI past and future.
plant stall and your garden questions answered.
We will be open for normal business, welcoming members from all over Norfolk.
What

is happening in WIs around Norfolk
WI

ATTLEBOROUGH WI

will be having a Coffee Morning in Attleborough Town Hall from 10am - 1pm, when they will take over the ground floor of the Town Hall from 10am - 1pm. All the refreshments and cakes will be free. Wearing sashes in the yellow and black colours of Norfolk Day and promoting the WI: the clubs and competitions, photos of past events, a raffle and a craft table with small items for sale.

BARFORD, WRAMPLINGHAM & DISTRICT WI

will be hanging the bunting out ... focusing on the bus shelter, to celebrate not only #NorfolkDay and the WI in general but also Norfolk WIs contribution to the Norfolk Bus Forum.

BARNHAM BROOME WI

entry for the the Royal Norfolk Show "All the fun of the fair" competition will be on display at Barnham Broom Post Office & Stores

BELTON WI

part of the "Norfolk Day" event being held within the village. This is an event that is being sponsored by the village magazine 'Village Voice'. The full programme can be seen on the village website 'beltonandbrowston.com'.

BOWTHORPE WI

are planning to have a picnic on Norfolk Day. This is due to start at 6pm as many of our members are working women. This will be held in the Bowthorpe Community Garden which is a beautiful open space with flower beds, trees, seating and a barbeque area. The raised flower beds are all sponsored by local groups, including the WI.

CAISTER ON SEA WI:

celebrating Norfolk Day with PRIZES TO BE WON! In association with the Community Centre. Registration forms will be on hand shortly at the Community Centre for parents to enter their children for the "Decorating a Cake" activity and competition.

CASTON WI

will be putting out bunting around the village and the Friday coffee morning, with the "Queen" visiting us - the knitted one previously in the Forum as part of our Petal and Purl event in June 2019

CITY WI

celebrating Norfolk Day by joining with the GOLDEN TRIANGLE GIRLS WI for a picnic in Eagle Park at 6pm-8pm. Members will bring a plate of food for sharing and enjoy a social evening.

COLBY & BANNINGHAM WI

taking part in an exhibition of Food and Farming History, in Banningham St Botolph's Church. Our WI's part in this will be to display some of our archives showing our 98 year history, some craft items and of course a flower arrangement. Other organisations taking part are the Church, The Banningham Crown – where you can get refreshments, cream teas etc, the Bowls Club who will be playing on their green opposite the Church during the day, displays of farming hand tools and an opportunity to test your knowledge, a chance to sample Norfolk recipes prepared by the Banningham Crown chef, lots of lovely flower arrangements from the Gardening Club and an opportunity to find out about all the various organisations in the village.

COLTISHALL AND HORSTEAD WI

making a small herb garden in the Community Orchard in Coltishall, which we hope to have ready for 11 o'clock for our celebration of Norfolk Day when we shall have a glass of bubbly and declare it "open". This is not a big project but something to give and share with the community.

DOWNHAM MARKET WI

holding their annual coffee morning on the 27th July in the Clock Room, Downham Market Town Hall. It's from 9.00am – 12 noon, and we are serving tea, coffee, biscuits, cakes. There will be a raffle, and stalls. Half the proceeds we make will be given to the Dementia Support Group in Downham Market. Making sure our bunting is out!

ERPINGHAM WITH CALTHORPE WI

are celebrating Norfolk Dayby serving morning coffee, tea and cakes at Erpingham with Calthorpe Village Hall from 10.00 – 12.00.Walking maps and associated history booklets on the local area will be available for sale. Crafts created by our WIwill be on display and members will be actively working on our latest project – a huge textile map of the village.

HEMPNALL WI

HOCKWOLD-CUM-WILTON WI

will be meeting for tea and a natter at the home of one of their ladies.

HOLT WI

will be distributing posies of flowers during the Norfolk Day celebrations in the town. They will have a label attached with information about their meetings and additional information about what the WI is about both locally and nationally and their programme for the year.

MARSHAM WI

as our usual meeting is on Wed 25th July, we are calling it a "Norfolk Celebration". We have invited some members from other WIs local to us and the refreshments will have a Norfolk theme such as Norfolk shortcake, Cromer crab sandwiches, Kettle crisps etc and the entertainment will be by the Marsham Belles handbell ringers, who are playing pieces with a flower, bird, or garden theme remembering Humphrey Repton who designed several gardens in Norfolk including Bolwick Hall at Marsham.

MUNDSLEY

joining the community of Mundesley to celebrate Norfolk Day in an event organised by Mundesley Parish Council. The WI will be running a stall selling cakes and pastries baked by our members plus teas, coffees, and soft drinks.

NORTH WALSHAM MARKET CROSS WI

taking part in an exhibition of archive material in St Nicholas Church North Walsham for Norfolk Day

NORTH WOOTON WI

taking part in an exhibition of archive material in St Nicholas Church North Walsham for Norfolk Day

NORWICH ALL SAINTS WI

are very pleased to be helping out at the Salvation Army Soup Kitchen for Norfolk Day. They are providing what the WI do best…delicious cakes. Some of our members will also stay and chat to people on the evening.

REEPHAM WI

are holding a treasure hunt with refreshments and fun and games in The Bircham Centre (Reepham Market Square) gardens (inside if raining) from 11.00 am to 2.00pm.

ROCK BUNS & ROLLING PINS WI

in North Walsham are of planning a lavender bomb event. Little lavender posies given out to members of the public as random acts of kindness.

SANDRINGHAM WI

having a stall at Sandringham Flower Show on 25th July

SCARNING WI
are have tea and cake at the Presidents garden. Bric a brac stall books, with a picnic competition to win back pack picnic set. All money raise to go to the Norfolk Air Ambulance.

SHERINGHAM WI

having a traditional Norfolk Cake Stall on Ottendorf Green. Nelson slice, Norfolk shortcake and Norfolk vinegar cake will all be served.

SOUTHERY WI

going to litter pick round the village on the day. Also some of their members are church goers and the church are opening their doors that day and having a favourite hymns and afternoon tea.

SPORLE WI

hosting a coffee morning for Breast Cancer Care on Norfolk Day 27th July 2018 at Sporle Community Centre 1030 - 1230 come along and support Breast Cancer Care. Coffee/tea and home-made cake and biscuits

SWALLOWTAIL WI

hiding rocks around our area to join in with the community Norfolk Rocks UK group.
Please paint a rock from your garden with a design of something WI, a WI logo or words, or get your kids involved and go wild!

THE PICKENHAMS' WI

decorating the pub in the village of North Pickenham (The Blue Lion) with bunting for Norfolk Day. The pub will be open at lunchtime that day and WI members will take along home-made Norfolk Cake and sandwiches. We do get walkers on the Peddars Way in the village and all customers at The Blue Lion will be offered a slice of Norfolk Cake.

THETFORD WI

holding a coffee morning at one of our members house. We are holding it at 63 Norwich Road and it will start at 10.30am on 27th July

THORPE END WI

celebrating Norfolk Day on the 27th July by holding a garden party at a members home. Members will meet - a raffle will be held or donations can be given for Nelsons Journey.

TIBENHAM WI

on 1st of July, on a glorious day members and friends were invited to the wildlife meadow of WI member Pat Garten and her husband Steve. Although a little early for Norfolk Day. We decided to make the most of the delightful weather.
Steve led the walk showing members various moths from his monitoring station. There were numerous wildlife hotels, and sites for bugs, hedgehogs, rabbits, reptiles, birds and butterflies. An abundance of wild flowers, especially ox eye daisies attracted the wildlife into the meadow. The walk was followed by a traditional afternoon tea which was enjoyed by all.

WROXHAM WI

handing out heart shaped boxes and small bags with tee lights in to 'light up Norfolk Day'. We will be down by the Staithe with balloons etc from 11am to 3 pm.

AND ALSO THE BECK WI at their 25th birthday celebration and they are walking with ELSING WI.